17821 Coltallen Drive, Carlinville, Il. 62626
A service I offer all clients that list their property with my office. Curb appeal sells houses on the outside while character and style sell them on the inside. God gave me the ability to look and see what needs done to make a place appealing to most eyes and I love to do this. Sometimes, I have walls moved to open spaces up, or make curtains to spruce it up and add some color, or move furniture around to make a room more usable, or paint in tones that accent the room generating an atmosphere, or do flooring updates making it look like new, or add new cabinet hardware, light fixtures or adding a simple flower arrangement in the right place can make a huge difference.
Check out some of the before and after photos and the remarks from satisfied clients…I can get a SOLD sign in your yard too!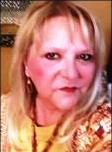 ~ Brenda S. Allen, Managing Broker/REALTOR®
ANOTHER NEW REDESIGN IS COMING SOON TO THIS PAGE !
LET IT BE YOURS!
504 E. Center Street, Girard ~ A redesign to get an updated look to enhance the property. CLICK HERE FOR DETAILS!
214 Sherman Street, Girard ~ A full redesign of this property made a HUGE difference and got Seller TOP DOLLAR! CLICK HERE FOR DETAILS!
615 N. Chiles Street, Carlinville ~ A full redesign took place here with lots of custom details. CLICK HERE TO SEE THE FULL PAGE
102 Sherwood Drive, Carlinville ~ my biggest project & SOLD/CLOSED in 70 days after I started showing it. ~ CLICK HERE TO SEE THE FULL PAGE
This ranch style home that was in a lake area was one of my favorites and probably one of the most extensive work done on a Redesign. This house really needed help!
I had very good owners to work with on this one too. They listened to my suggestions and have been excellent to work with. This home got a new roof, a wall removed between the Kitchen and Living Room to open it up, the furnace moved out of the Kitchen into a new room I made in the back of the garage where the washer and dryer were; quality vinyl on the Kitchen/Living Room, tile in the bathroom, carpets all professionally cleaned, new fixtures, new door knobs, new counter tops, cabinets rearranged, all painted from top to bottom including cabinets; new vanity, new curtains, and lots of sprucing up inside and outside,too! This house was a Cottage Style transformation that will make someone a very nice, economical home! (I didn't get any before photos of this one. The work started so quickly with contractors responding to my needs that I didn't get any time for photos. When I actually help with the labor of a Redesign I forget about photos and am just working to get a job done.) I not only come up with ideas, I contact Contractors, keep records, bill out, pay and manage the whole job from start to finish! This particular job the Sellers lived out of State and communicated with me through email and phone.
If you can imagine, there was a dog fence sitting in front of the bump out there by that tree. It was a little wider than the bump out and came out all the way to the road. It was unkept with lots of trash in it. The posts were rusted, garage door was broken, walk in door was rotten and trim was in bad shape all the way around the house. Roof was in bad shape too. If left as it was, I would have been lucky to get $15,000 to $20,000 for it.
This is the entrance to the Living room. The wall you are looking at was paneling, the floor was concrete with really bad carpet on it. No trim. Nice vinyl was put down in Living Room and connected Kitchen.
Where you see the island, that was a furnace right out in the open with nothing around it! I removed a wall that was behind the furnace, had the furnace moved to the back of the garage and built a utility room there.
I had this island built to open up the two rooms and then put new counter tops all the way around the kitchen. The cabinets on the wall in that last photo were hanging in the kitchen, I moved them to this wall and put corbels under them to make that whole wall look built in. Really added a nice touch for character.
This is the master bedroom. It was useless when I took the listing. There were no heat ducts to this room. All it had was a wall heater. Those sliding doors were blocked so they didn't work. New carpet was added, of course everything here was painted as well as ceilings and trim. This ended up a really nice room.
The bathroom needed a new vanity, toilet, towel bar and wall cabinet. It, too, was an eye sore all the way around. It turned out very cheerful!
This REDESIGN was thousands of dollars of investment and trust put in to me. I do not take my job lightly. I know Clients are trusting me to bring results and I put out 110% getting those results. Do you need advise? A Consultation is minutes away after you make one phone call to me. I love my job~ Brenda
This Ranch Style home with full basement got a minimal Redesign that got it sold quickly. The owners relocated to a different state and basically told me I could do what I wanted to it to get it sold and reminded me they didn't have much money to put into it. I went to work with colors to coordinate to make it appealing and fresh. I had been showing it for months with no interest. Got the Redesign all finished up and sold it a few months later.
Splashed some color on the outside for curb appeal and got this . . .
Living room looked tired and dated until I did this. . .
Dining Room looked dark and gloomy with those curtains until . . .
Needed some life. . .
As you can see sometimes all it takes is some time effort and paint with ideas wrapped around each one. I've operated on a shoestring budget up to complete remodels costing thousands of dollars. No matter which way, I've always gotten my Sellers what they needed and they have made money. Want me to try for you? Give me a call! Brenda
My ranch style home was on the market for over year. It was a good home, but in need of many repairs. It was difficult for me to oversee these repairs as I lived 2 hours away and had a demanding schedule. I have known Brenda for years. I called her and she at once put my home as a priority to sell. She suggested a redesign and I consented. After a few thousand dollars of repairs, my home sold for more than I purchased it. Brenda oversaw all the repairs and management of my money. I did little and she did the rest. She personally made curtains and decorated the house to give it the lived in look. I will always remember the time Brenda and I trimmed bushes at my house together in order to make the home presentable. Brenda was more than my Realtor. She became a good friend, who was obviously interested in my well being more than making money off of the sale of house. I am forever grateful to God and Brenda for the sale of my home. (John Airsman)
The outside needed cared for. Roof was starting to look bad. We planted and removed and made a crisp clean look when finished.
BEFORE AFTER

The Living Room in this home definitely needed some upgrades. I painted the walls a nice warm tone and put one accent wall at the end that was a bit darker. New carpet was put down to match my color scheme. Curtains were hung that were a heavier cotton, I put a striped material across the top that had both wall colors in it as well as a stripe with a blue/green tone so I could bring that same curtain into the dining room which was open to the kitchen that had blue counter tops. REALLY went well together when it was all finished.
BEFORE AFTER
The Dining Room had dated curtains and blue mini blinds (that you don't see in the pic). I knew they had to go! I painted this room the same as the Living Room and put a darker color on the end wall for accent. I made the curtains match the living room since the rooms were pretty much opened up together. This made the color scheme flow. I white washed an old chair I had that didn't have a complete seat in it, put a piece of the striped fabric from the curtains I had made in the seat, sat a bowl in it and then put flowers in it. I place a picture above the chair with a whitewashed frame, and the colors in the picture were the same that were in the striped material I used: caramel colors, khakis, cream, and the blue/green. This was now transforming into a 'cottage feel' and I was liking it more and more"
BEFORE AFTER
The Kitchen brought more challenges. I found a leak under the sink and a major leak where the refrigerator had been removed and the water line left. The floor was wood parkay. The water damaged the floor badly so we had to make major changes here. We started with the floor and removed it. I chose a neutral color vinyl that would go with my color scheme to replace it. The kitchen got painted the same color as the Living room and dining room. All trim was painted the same color as the walls so we got a even color flow with no interruptions. I had those dated blue counter-tops to deal with , BUT - I pulled off the Cottage Look real well. I made curtains out of a small blue and white check and put the striped material across the top of them that I had put on the Dining Room curtains. This brought the two rooms right together AND with the help of that cute sink the kitchen now had that same Cottage Feel - especially when I added one place mat of the blue checked material, one place mat of the striped material, and a solid brown place mat - sat a matching plate, saucer and cup on them , put a napkin made out of the solid color next to the plate as well as a few greeting cards that fit well AND a small blue flower pot with flower seeds in it! I sat out a few small baskets with blueish green potpourri in them, put out new towels and we were ready to show! Of course, we had to fix the leak under the sink, we added a new garbage disposal, electric switches and faucet. New light fixtures were put up in several of our rooms, too. I like it, don't you?
BEFORE AFTER AFTER
I had fun with the Master Bathroom! As you can see the striped shower curtain didn't do much. I had the walls painted the same color as I used in the other parts of the house. I took down the old medicine cabinet and put up a new mirror, made a shower curtain with a white sheet, put a dark green checked piece across the top and cut out little sunflowers from other material and put them on the checked material. I used the checked material to tie the curtain to the rod. But the room still didn't 'pop' the way I wanted it to. So, I made a wall hanging out of the same material I used on the shower curtain and put it next to the sink so you could see it when you entered; hung a towel bar and put dark green and cream towels on it, put the same colored towels on the sink, and put down the same colored rugs. The bathroom tub needed a new faucet and new caulk around the sink area. By the time I got this room done, I wanted this house!
The owner of this home, John Airsman, was very easy to work with. He was so open to my ideas which made my job a lot easier. The house had been listed a year with no interest. I made a list of things I wanted to do and told him I was sure he would make that cost back and maybe double it when we got ready to sell. John was 2 hours away and he trusted me to do what I told him I would, be thorough and change this house into one that would sell quickly. I had the whole inside painted the same color, put new carpet down in all the bedrooms and living room, put new flooring down in the kitchen, put up all new curtains, had new light fixtures put up, changed out any switches or plug ins that didn't work. The house was certainly transformed! When we put the house back on the market, it was sold in one week. John got back what he paid in cost PLUS!
If you are having a hard time getting something sold, give me a call and I can give you my options of service along with pricing. Of course your property has to be listed with me to get the Redesign service IF you are trying to sell. If you just need a change, I can come in and make suggestions, price the job and let you decide. I can take what you have and simply move it around and make it look like you have a new home! Call me - you won't be sorry you did! ~ Brenda
This Craftsman Bungalow gets redesigned to sell by painting with color to coordinate rooms for flow and making the dated kitchen flooring that had pink in it look burgundy by adding a burgundy color to a kitchen wall; adding window treatments and room accents made this home show off it's original bungalow character! This Seller was operating on a small budget so I did what I could with the least amount of money and... GOT IT SOLD! He had already relocated with his job to another state. He needed this property sold before he left but circumstances wouldn't allow. I tried to sell it not doing anything to it, but time was of essence. The work got done fairly quickly and the house got sold in 3 weeks ~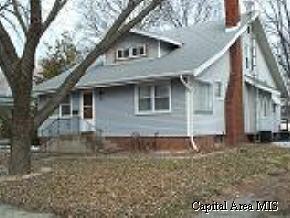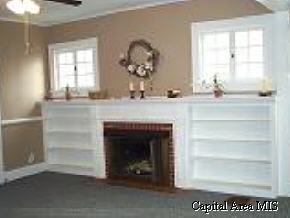 This Living Room and Dining Room was light blue. The blue carpet had specs of burgundy in it
so to warm it up 'Paper Bag Brown' went on the walls with all the trim getting a fresh coat of white paint.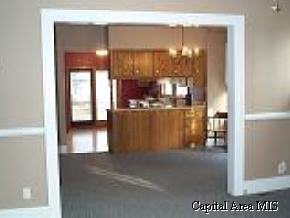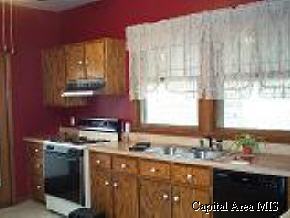 This was a house you would of had to seen to believe the difference. I didn't get before pics of this one, but the colors changed the whole flow here and gave the dated flooring a real upgraded look. The Paper Bag color was put in the Dining Room and then Burgundy in the kitchen that helped that dated floor with dark pink flecks look so much better.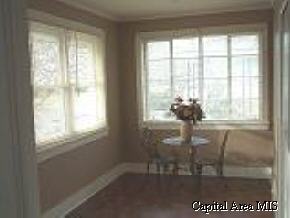 This Sunroom was seen upon entering the front. It was being used for a storage porch and need life brought back to it! Fresh paint and a little staging pulled that off!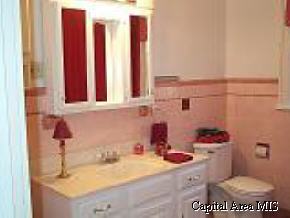 Bathroom was a bit of a stretch being pink tile... but, hey, I pulled it off with some dark burgundy here and there!
These were small changes that made a BIG difference. The house got sold not many days after the Redesign and the Seller was happy! How about you, do you need a little help? Call me ~ I would love to help you get that SOLD sign in your yard! Brenda