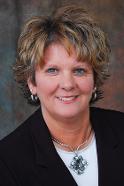 Kim Boente joins Firm Foundations Realty ~ March 2012
Kim is a Carlinville native and a graduate of CHS and Hickey Business School. She has been married for almost 25 years to Mark Boente, also a Carlinville native, who works at his family-owned business, Joseph F. Boente & Sons. Kim and Mark reside in Carlinville with their three children, Chelsea (23), Dane (19), and Bryce (15). Kim is also an active member of Ss. Mary and Joseph Church.
Kim started her career at Blackburn College as an assistant to the Director of Admission and several years later went to work in the Loan Department at the Farmers & Merchants Bank, where she worked for 13 years.
She then took a job at Hanson Professional Services (formerly called Hanson Engineers) in Springfield, where she has worked for almost 18 years. Kim served as a Senior Administrative Associate at Hanson for 16 years, but has recently moved into the Land Acquisition Department. She is working with many clients in the land acquisition field that includes acquiring property for airports, highways, and bridges. Kim is also recognized as a Relocation Agent and a Negotiator for the State of Illinois. Through her previous and current employers, Kim has many contacts from Carlinville to Springfield and the surrounding areas.
"My goal is to strive to be the best Broker I can be and to 'always' treat people fairly and honestly - as I would want people to treat me - and to also give 110% towards the end goal, which is to find the perfect buyer for my seller's home or the perfect home for my buyer," Kim said.
Belonging to the MLS gives Kim a great ADVANTAGE. She will be able to find her Buyers just the right property on her computer. But most of all, she will be able to make her Seller's property available to hundreds of other Realtors who will be searching for properties for their own Buyers. "We live in a computer savvy world," says Kim, "and I wanted to be able to give the most exposure I can to my Sellers. It does cost me, but it pays them in the end. A high percentage of Buyers are online looking for property and CAR will link my listings to at least hundreds of other websites. I think that is great for my Sellers," she concluded.
Managing Broker/Owner, Brenda S. Campbell, said "I am blessed once again that Kim Boente chose me to work under. God has certainly given me the 'cream of the crop' when it comes to Agents! With Kim's background she will have many, many contacts - but the most important thing to me - is that she is HONEST and has MORALS that will go with her in everything she does. I will be able to trust her to represent my office and uphold my name in a high regard to ethics. It just doesn't get any better than that."
Kim also became a member of the National Association of Realtors and the Illinois Association of Realtors, which will provide her with all the current trends in the real estate markets, financing options, and legal advice she might need along the way.
Kim is eager to discuss your real estate needs and can be reached at:
(217) 473-5714 (text/call) or mkboente@frontiernet.net
~ Kim has been with me for 2 years and I've seen more action, determination, and grit come from this lady than ever. She sure knows how to stand her ground when it comes to license law and applying it in every transaction not wavering to skip steps for time saving! She's all about taking care of client's best interest with both Buyers and Sellers. She has worked many hours on weekends painting, scraping, and cleaning to get property ready for that final inspection from Lenders for Loan Requirements. You are in good hands when you choose Kim to represent you in a transaction ~ 2014
FIRM FOUNDATIONS REALTY
Brenda S.Allen, Managing Broker/Owner
17821 Coltallen Drive
Carlinville, Il. 62626
217-854-7247
firmfoundation@frontiernet.net
All licensed in Illinois