KIM BOENTE - Over $1 Million in transactions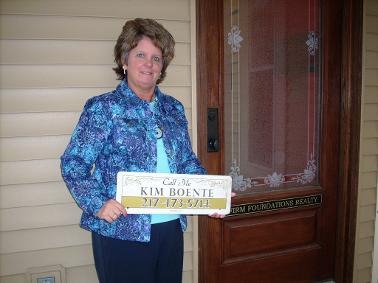 Firm Foundations Realty Managing Broker/Owner, Brenda S. Allen announced this week that Kim Boente handled over $1 million in transactions since she started working with her office. "It's been a tough market since Kim came to my office 2 years ago," says Campbell. " but that has not stopped Kim from working into late hours and on weekends to take care of her clients. She definitely puts forth much effort in seeing that her clients are taken care of in getting financing, negotiations, inspections, works to see the closing goes smoothly and stays in line with Illinois License Law. These things just don't happen on their own; a good Agent makes them happen. I've seen Kim help first time home buyers paint to satisfy a lender guideline, you just don't see many Realtors or Agents do this! "


Boente belongs to Capital Area Association of Realtors, Illinois Association of Realtors and National Association of Realtors so she can be willingly held to a strict Code of Ethics while keeping abreast of real estate news and regulations. NAR's Research department showed Boente that the forecast of real estate is on the rise for 2014 and that a home is no longer a depreciating asset. While NAR expects to see the interest rates rise this year the overall climate for the business is going to level out. Boente believes that being a member of these Associations benefited her in handling this kind of volume by providing her with new techniques and strategies for both Buyers and Sellers.

"I love helping people find the home that fits their needs and take a sincere interest in them on a personal level understanding that this is an important decision. I also understand the importance of a Seller in getting their property marketed on a broad range for more interest, which is one of the reasons I like belonging to these Associations. They allow me to market my listings to over 700 Realtors automatically when entered into the nationwide data bases. Those Realtors have put their Buyer criteria into this database so that they get emailed as soon as the listing is entered. What a difference that makes for my Sellers!" Boente enthusiastically explains. "This is what has helped me handle over $ 1 million in transactions in only 2 years of a rough economy".

Before coming to FFR, Kim worked in the Loan Department at the Farmers & Merchants Bank for 13 years. She then took a job at Hanson Professional Services (formerly called Hanson Engineers) in Springfield, where she has worked for almost 20 years. Kim served as a Senior Administrative Associate at Hanson for 16 years, but has recently moved into the Land Acquisition Department. She is working with many clients in the land acquisition field that includes acquiring property for airports, highways, and bridges. Kim is also recognized as a Relocation Agent and a Negotiator for the State of Illinois. Through her previous and current employers, Kim has many contacts from Carlinville to Springfield and the surrounding area.

"I've known the Boente family personally ever since I moved to Carlinville in 2003," explains Campbell, "They care about our community not just because they are business owners but take a genuine interest by volunteering in various ways, support school sports and activities not to mention raised 3 children to be caring and responsible no matter what they set their hand to. I was blessed that Kim wanted to come work with my office. I have no doubt that these attributes are what allowed her to handle this much volume. Congratulations, Kim on this accomplishment in such a short period of time, " concludes Campbell.

Kim can be reached at 217-473-5714 by texting or calling.
FIRM FOUNDATIONS REALTY
Brenda S. Allen, Managing Broker/Owner
17821 Coltallen Drive
Carlinville, Il. 62626
217-854-7247
firmfoundation@frontiernet.net
All licensed in Illinois